News
AJ Adhesives, Inc. is a leading vendor of industrial adhesives
AJ Adhesives & MAP Attend ACG St. Louis Featuring Dr. Beaulieu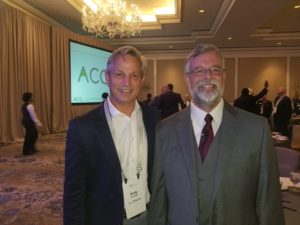 The ACG (Association for Corporate Growth) St. Louis hosted one of the country's most informed economists, Dr. Alan Beaulieu on October 5, 2018 at the Ritz Carlton.
For more than twenty years, Alan Beaulieu has been consulting and advising companies throughout the US, Europe, and Japan on how to thrive through the business cycle. As a senior analyst, economist, and President of the Institute for Trend Research (ITR), Beaulieu has become one of the most highly trusted, sought-after business speakers and consultants in the world. He delivers economic forecasts with 96% accuracy so companies can capitalize on market opportunities and improve prosperity both in the near and long-term.
"I've seen Dr. Beaulieu at least six times and he is always spot on.  Henkel Corp, the NAW, and TAPPI all have hosted him over the last 8 years and he always delivers," says Andy Schwartz – President of AJ Adhesives & Mid-America Packaging.
He has consulted across North America, Europe and Asia optimizing companies' forecasts and planning to increase profits through his mastery of business cycle trend analysis.  Dr. Beaulieu makes about 150 keynotes each year, it is St. Louis' ACG most heavily attended and most highly rated meeting.