News
AJ Adhesives, Inc. is a leading vendor of industrial adhesives
AJ Adhesives Ranks 50th Fastest Growing Privately Held Companies of St. Louis' Top 150
November 20, 2023 – St. Louis Headquarters, AJ Adhesives Inc.
We're excited to announce that AJ Adhesives, Inc. in its 30th year of business in 2022 ranked the 50th Fastest Growing Privately Held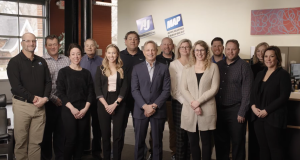 Companies of St. Louis' Top 150.  Andy Schwartz, President & CEO, said, "We have the Best Team in the league and expectations for 2024 are exciting and achievable!!!"
AJ Adhesives, a nationwide industrial adhesives distributor headquartered in St. Louis Missouri, started business in 1992 and has expanded their service areas over the years growing into six warehouses across the U.S. distributing the top industrial adhesives for packaging and product assembly.
When you're looking for an industrial adhesive distributor that can meet all of your industrial adhesive needs, look no further than AJ Adhesives, Inc. We are the manufacturing industry's premier source of industrial adhesives and industrial adhesive equipment, distributing to a diverse range of industry sectors.
Our inventory of hot melt adhesives and liquid adhesives are applied to a broad range of applications including; box sealing, case sealing, and carton sealing, book binding, labeling, paper laminating, carton forming, woodworking, and product assembly.
Ordering from AJ Adhesives is the most cost-effective and productive route for adhesive purchasing. Our sales and technical support staff are professionally trained in adhesive technology and adhesive application equipment to provide you with efficient cost reduction evaluations and unmatched service. From purchase to production, our dedicated team stays with you every step of the way.
Read the full list here: St. Louis' top 150 privately held companies – Ranked by Revenue Volume 2022