News
AJ Adhesives, Inc. is a leading vendor of industrial adhesives
AJ & MAP Attend the 7th Annual AAIM Leadership Conference
MAY 2, 2019 – Saint Louis, MO
On May 2nd, some of our AJ Adhesives, Inc. & Mid-America Packaging (MAP) management team attended the 7th Annual AAIM Leadership conference in Saint Louis, MO. Maria Barbarotta, HR Director of AJ & MAP, really enjoyed her breakout sessions and gave an overview of the day's events.
Speaker and Founder & President of CareerCompass Bernie Frazier, spoke on "Let L.O.V.E. Lead". This was getting back to the basics we sometimes forget energizes and motivates employees:
"L": Listen, with intent to help find a solution
"O": Overly Praise
"V": Verbal Expectation
"E": Empower others, to build confidence and give authority.
Mastering HIGH trust in a LOW trust world: He emphasized how damaging it can be to come to work and not fully trust your team.  And the incredible impact high trust has on a healthy culture.  Trust is EVERYTHING in every relationship we have in life.
Some of the main speakers of the day were: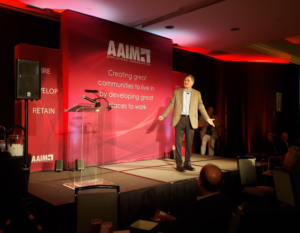 Doug Lipp, former head of Disney University – Drawing on his 30 plus years of combined experience at Disney and in private practice, Doug inspires and challenges hundreds of organizations worldwide. In presentations, he shares how Disney overcame spectacular strategic challenges to unleash one of the most improbable success stories in corporate history.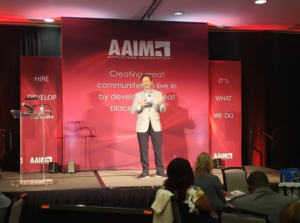 Chris Zimmerman, President and CEO of Business Operations for the St. Louis Blues. Zimmerman has more than 30 years of experience in sports, marketing, and business management, including stints at the General Manager of Nike Golf, President of the Vancouver Canucks, and similar roles with both Bauer Hockey and Easton Sports.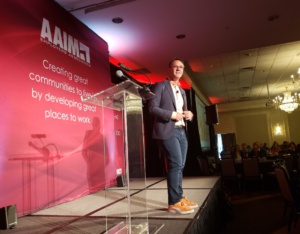 Krister Ungerbock, a keynote speaker, CEO Coach, and global expert in The Language of Leadership. Prior to retiring at age 42, Krister was the award-winning CEO of one of the largest family-owned software companies in the world. His expertise in the Language of Leadership is based upon his unique experience as a global CEO leading teams in three languages while observing and doing business with executives in over 40 countries, building businesses in six and living in three. As a corporate keynote speaker, Krister is passionate about sharing the employee engagement secrets that he and his Executive team used to win 5 consecutive Top Workplace awards and achieve remarkable employee engagement levels of 99.3%.