News
AJ Adhesives, Inc. is a leading vendor of industrial adhesives
Covid & Power Outages Can't Keep Us Down!
August 10, 2020 – Chicago, IL
Just call us the distributor that CANNOT BE STOPPED! While this year may have thrown us some curveballs, we're proud to share that in 2020, AJ Adhesives & Mid-America Packaging has kept all 6 warehouses up and running throughout the entirety of Covid-19 & now through a massive power outage in the Chicago, IL area, where one of our Midwest warehouses distributes.
A "Derecho" storm, which is a widespread, long-lived, straight-line wind storm, travelled from South Dakota to Ohio (770 miles in 14 hours), and hit our Chicago warehouse just as our warehouse staff, Matt, was closing up at 4:00 on Monday, August 10.  He saw the first gust of wind buckle our overhead door (pictured below) and sent the garbage dumpster across the parking lot.  The Chicago area had wind gusts up to 85 MPH that day.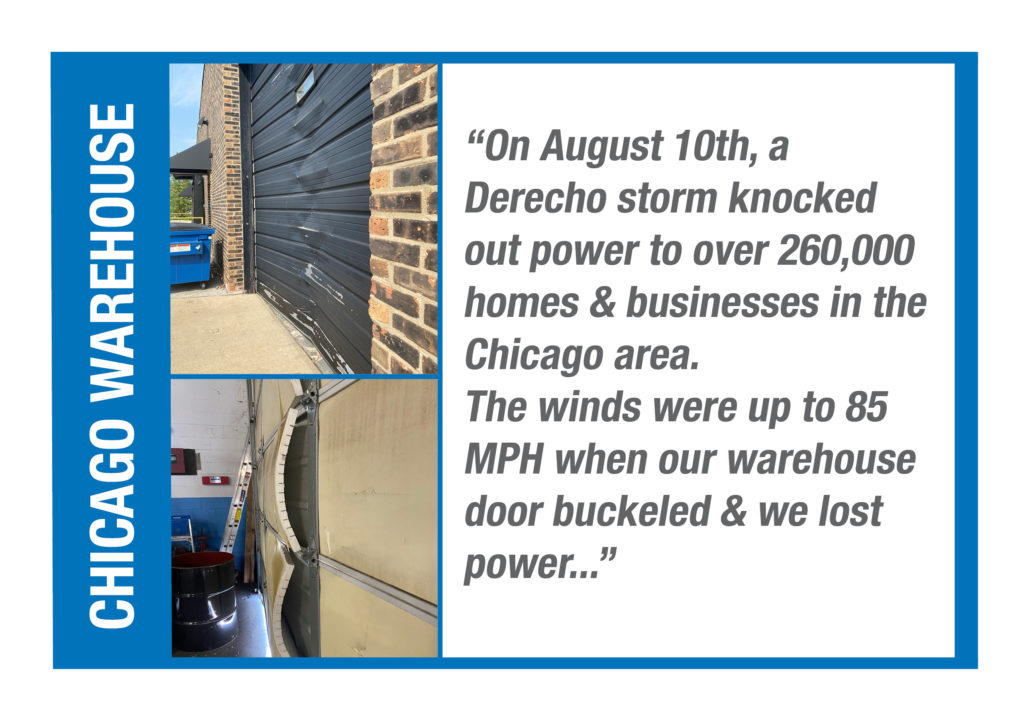 On Tuesday, it was realized how widespread the damage was as 260,000 were without power in the Chicago area and according to Com ED it was going to take the rest of the week (at least) to restore power. The AJ & MAP team sprang into action and started calling all over northern Indiana and Illinois trying to find a generator to rent or buy, but everyone was sold out.  The Chicago warehouse had no lights, computers, printers or landlines, but Matt and Gary, our Chicago warehouse team, were able to get out the necessary orders.  Without power, the dock levelers didn't work so our team (mainly Matt) had to load skids on the tail of the trucks and then use pallet jacks to manually move the freight to the front of the trailers. But the orders got out!
On Wednesday, Chicago warehouse manager, Gary, began calling Home Depots in the area as soon as they opened at 6:00 am and was able to find some generators that came in overnight at a store about an hour and 15 minutes away from the warehouse. Once the team had the generator up and running, AJ's Purchasing & IT manager, Gene Kenold, took a lot of time to walk Gary through switching all of the IT equipment over to the generator power. Gary really appreciated Gene's help and said, "With my computer knowledge I'm sure I would have blown something up if left on my own!"
For the rest of the week the team had to use flashlights to find product in the darkened warehouse, loaded trucks manually, and didn't have air conditioning in the office to escape the heat, but it they made it happen until power was restored almost a full week later on Sunday the 16th.
Andy Schwartz, AJ & MAP President & CEO, showed his appreciation for their hard work to the entire company and shared his favorite Teddy Roosevelt quote, "Do what you can.  With what you got.  Where you are."