News
AJ Adhesives, Inc. is a leading vendor of industrial adhesives
Freeze Season Is Coming! Do You Know What To Do?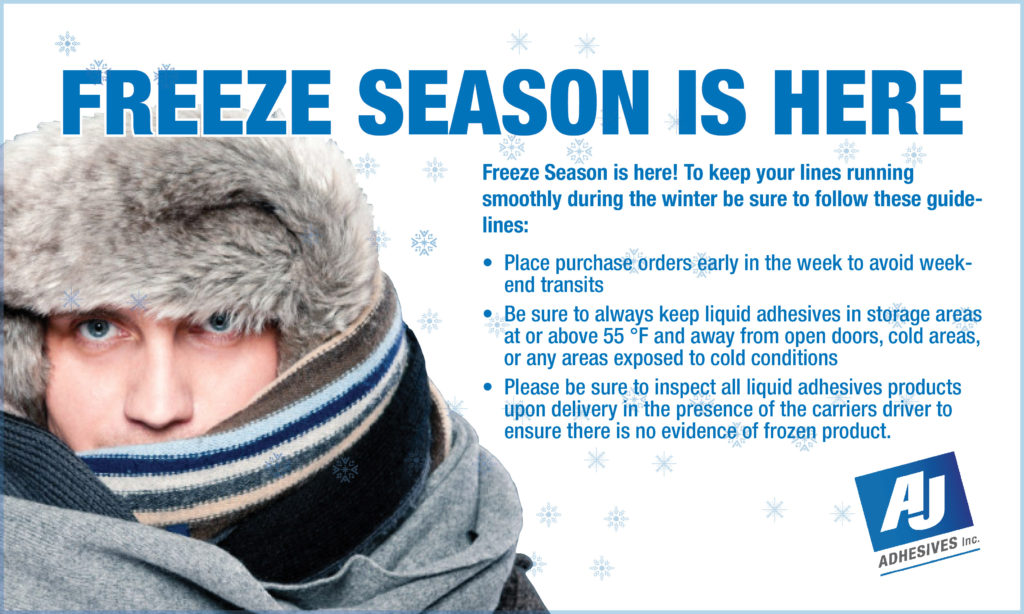 With freeze season almost here it's important to know how to protect your liquid products. This winter please be sure your receiving department knows to do the following before signing the carrier's delivery receipt.
When a liquid adhesive arrives, open the container and examine the contents for the following conditions:
Check to see if the adhesive temperature has gone below 32°F or 0°C
Does the product look coagulated resembling cottage cheese
Is there water separation in the product
Is the product hard and frozen
*If freeze indicator was used you must still check the product as mentioned above. 
If you discover any of these conditions and the Bill Of Lading is marked "Protect From Freezing" reject the shipment and state your exception in writing on the delivery receipt. If you choose to receive the shipment, you assume responsibility for the condition of the freight received. If you discover a problem after the carrier has left, call the carrier and request an immediate inspection. For other questions, call your AJ Adhesives Customer Service Representative at 314.652.4583.
Things To Keep In Mind:
Place purchase orders early in the week so the product is not in transit over the weekend
Be sure to always keep liquid adhesives in storage areas at or above 55°F and away from open doors, cold areas, or any areas exposed to cold conditions
Please be sure to inspect all liquid adhesive products upon delivery in the presence of the carrier's driver to ensure there is no evidence of frozen product. If this is not done, and the receiver accepts the goods, it is assumed the goods are not frozen at the time of delivery and it becomes the responsibility of the consignee
Order truckload quantities when possible to receive additional heat protection
Transit times may vary due to unpredictable weather/road conditions; encourage customers to buffer transit to ensure timely delivery
For more tips LIKE our AJ Facebook page!