News
AJ Adhesives, Inc. is a leading vendor of industrial adhesives
Freeze Season … Will It Ever End?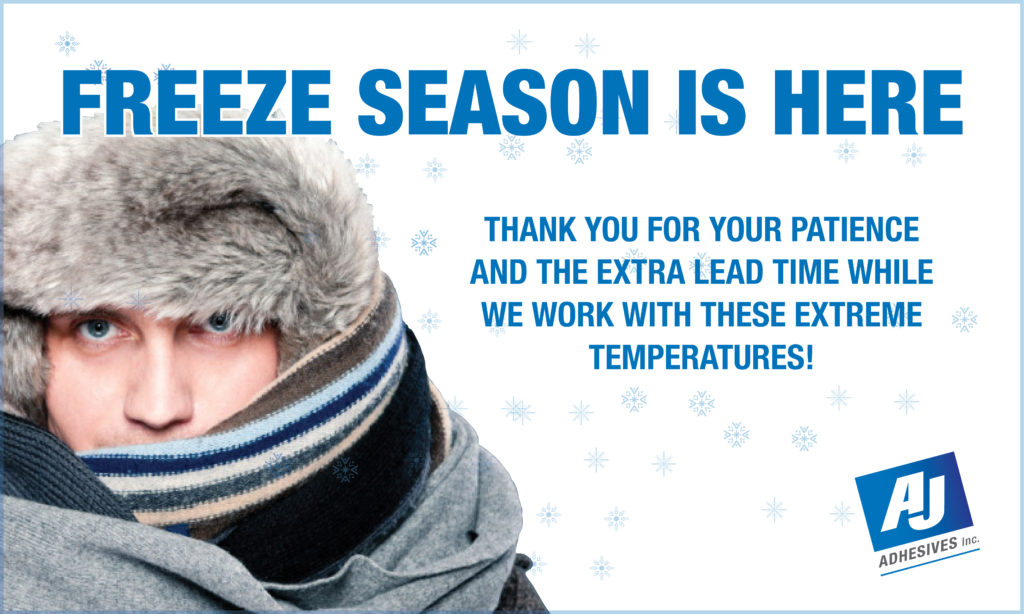 It will… eventually… until then placing liquid orders will require some planning. As your adhesive professionals we're always here looking out for you. Here are some tips to help you stay ahead of the ordering game in the cold winter months.
#1) When placing your liquid adhesive orders give yourself some lead time. If you order on a cycle every 2 weeks and you see the forecast temperatures dropping below freezing it's best to place your 2 orders for the month at once. This can ensure you have enough product for a longer time frame and help you plan ahead for the next warm spell when temperatures are above freezing overnight.
#2) When planning your ordering for the week or month be sure to look at the temperature overnight lows. The highs during the day may be in the 40's, but it's the nighttime lows that can freeze and compromise your product. If you're unsure when planning your ordering contact your AJ CSR to see when your product might be able to ship.
#3) Ask your favorite AJ CSR if your shipping transit time is more than a one-day transit for order scheduling. The longer the transit time the more likely your product will freeze during times of freezing temperatures. AJ Adhesives has the ability to serve you better with our 4 stocked warehouses across the country. We like to ensure your shipping time is as short as possible.
#4) Are you in a pinch and need your liquid order to ship, but it's below freezing overnight? Ask your CSR if your shipping location can be delivered via a same day carrier. The freight cost may be a bit more, but ensuring your line doesn't go down can be priceless.
#5) Ask your AJ CSR where your product is shipping from. It might be warmer where your headquarters is compared to where our stocked warehouse is. We would love to stock everything to you as close as possible, but as all of our customers across the country have needs we must stock product efficiently. So plan ahead by asking your CSR where your liquid orders ship from so you can look into that location's temperatures as well. You can find all of our warehouse locations here.
#6) You can always "Will Call" an order where you arrange for your own company, or a courier you trust, to come pick up product at our warehouse.
#7) To ensure your product arrives in good condition AJ will not ship liquids on Fridays during freezing temperatures, so please place your orders earlier in the week for shipping.
#8) If snow and ice are forecast it is always a good idea to place orders earlier in the week allowing extra time for road delays and closures.
Bonus Tip) If you do receive a liquid shipment be sure to check it so you do not accept frozen product.
For more ordering tips and information LIKE our AJ Facebook page