News
AJ Adhesives, Inc. is a leading vendor of industrial adhesives
futureFOCUS 2018 Delta Dental Conference
St. Louis, MO – The Ritz-Carlton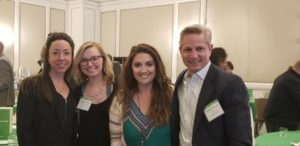 Some of the HQ staff attended the futureFOCUS 2018 Delta Dental Conference and had the opportunity to listen to speakers and authors, Claudia Williams, on her book Friendtorship, Chester Elton and Adrian Gostick on The Engagement Effect.
Maria Barbarotta, Human Resources, said her biggest take-away from the event was, "Trust is the #1 thing you must have." The book Friendtorship really helped to discuss that work/life balance about extending trust in those sectors of life.
Nichole Shores, Marketing Director, said in regards to culture, "it's interesting how many different identities one office can have. Different things motivate different people." From being an office "Cowboy" to working with a team-mentality, many different styles of work-approach were discussed in depth.
Meghann Wood, HQ Administrative Assistant, said, "I can absolutely see takeaways that I can bring back to the office and things I can implement to my piece of the AJ/MAP system."  
The Manslow's Hierarchy of Needs was presented and adapted for the work life since work culture is vital to a thriving company. Andy Schwartz, President and CEO, said, "I really liked the topic of Accountability and the Road-Map of creating a positive and healthy work culture."