Products
AJ Adhesives, Inc. is a leading vendor of industrial adhesives
Bostik Adhesives
AJ Adhesives stocks and supports a large number of Bostik brands and products for a variety of packaging applications. With fast set, excellent wet-out and short open time, Bostik's products cut labor costs, minimize waste, reduce material costs and improves overall product robustness.
Supported Brands

Bostik's THERMOGRIP line includes products to meet a multitude of applications. The THERMOGRIP Bulk Hot Melt Adhesives offer optimum versatility, performance and economy for distributors, driven production and assembly applications. THERMOGRIP is based on APAO, SBR, SBS, SEBS, polyamide and polyester making them ideal for a wide variety of applications.

Bostik's AQUAGRIP line includes a product for virtually any liquid application. AQUAGRIP water-based adhesives are based on 100% synthetic polymers to create a wide variety of adhesive systems. Those used in the flexible packaging market include acrylic latexes that may be formulated into systems for reseal packaging. These PSA adhesives can be used to close larger packaging, allowing one to open the package repeatedly to remove individual servings.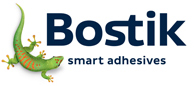 Although many products that AJ support from Bostik are their own brands, there are products that AJ supports that are actually branded as Bostik. These include flooring products, construction products, and product assembly products.